Boot 2023
January 21 at 10:00

-

January 29 at 18:00

CET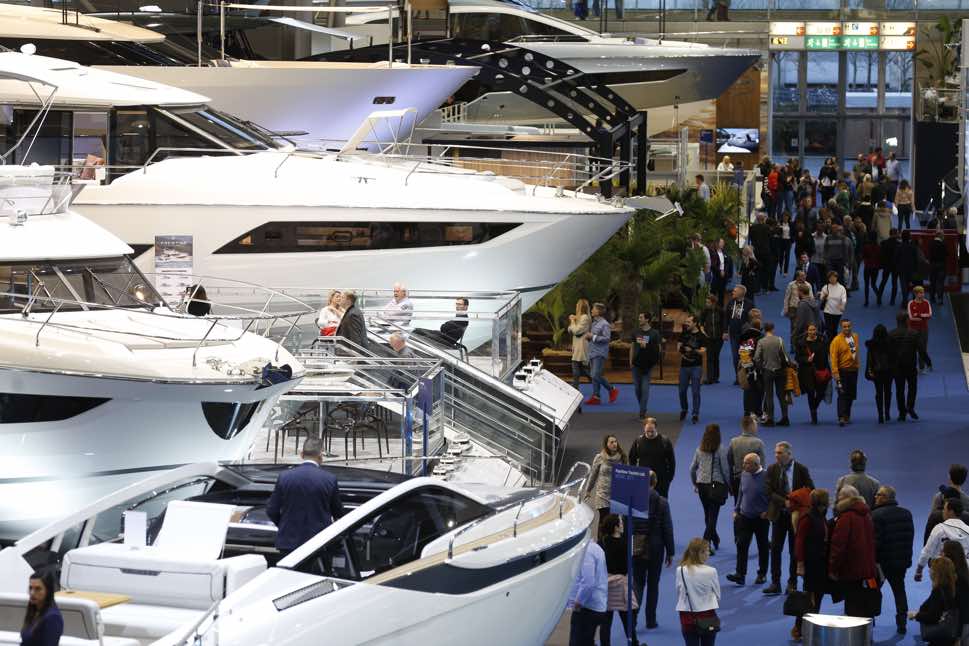 The world's largest trade fair in its field, boot Düsseldorf, presents a highly interactive environment to experience traditional and innovative water sports favourites. Discover some 1,500 exhibitors from across the globe as they present their products and concepts concerning all topics on, under and beside the water in sixteen exhibition halls. That's equivalent to thirty-one football pitches!
A comprehensive line-up ranges from small entry-price boats and dinghies to luxury yachts, diving, surfing, SUP and angling. Innovations include the topics of sustainability and nature conservation. For years, boot Düsseldorf has been campaigning for a greener boating industry and the protection of our oceans.
Download the flyer of boot 2023 for a quick overview or engage with the online interactive floor plan to discover exhibitors and plan your route through the fair. Experience an exciting day out at boot 2023 and try all the new water sports options on offer. Enjoy hours full of action and fun for individuals and families alike.
Blue Innovation Dock 360º
In its second year, the blue innovation dock will bring together visionaries, investors and politicians to make the industry fit for the future.
Each day of the fair there will be presentations on stage and in English. Diverse topics include leaders dialogue – business meets politics, sustainable propulsion, financing innovation & start-up disruption, future fuels, circular materials, sustainable nautical tourism & water sports, innovation for sustainability, engaging NGOs and all players and engaging citizens & boaters.
Furthermore, the Ocean Tribute Award will once again be presented in cooperation with the Prince Albert II of Monaco Foundation and the German Ocean Foundation as part of the trade fair. This award honours environmentally-friendly projects and technical innovations that contribute to a better climate and healthier waters.
Sailing Boats in Halls 15 & 16
From the Nile of 5,000 years ago to the halls of modern day Düsseldorf, sailing has never lost its appeal. Navigating the winds and currents is more than a mere sport. The passion of sailing can be experienced once again in two impressive halls. Discover dinghies, sailing yachts, catamarans and the latest trends. Experts give sailing fans-in-the-making valuable tips and tricks in the Start Sailing area whilst the little ones get ready to cast off in the boot Sailing School.
Motor & Super Boats in Halls 1, 3, 4, 5, 9
Whether your preference is small yet appealing or large and exclusive, boot has everything you need to make your dream of your own motorised boat come true. Take your time on an impressive walk through the motorboat halls at boot Düsseldorf and enjoy the fascinating array of motorboats and superboats as well as state-of-the-art equipment and fun products.
Super Yachts in Halls 6 & 7a
Hall 6 always attracts the crowds at boot Düsseldorf! Luxury and high-end yachts and motor gliders invite you to revel in sheer luxury. The range of super yachts has continued to grow in recent years and the exceptionally big yachts on show are always worth a visit. Come and enjoy!
Motors, Equipment & Accessories in Halls 10 & 11
A real insider's tip for shopping fans amongst water sports enthusiasts, boot Düsseldorf  presents an almost overwhelming range of maritime products.
Engines, technical accessories, marina fittings and fixtures, boat equipment and accessories, boat instruments, watersports clothing, maritime publications and service providers are all available, Attractive trade fair offers at great prices can be found here. So too, the blue innovation dock.
Diving in Halls 12 & 13
This is where yo can find your diving paradise above water as well. Experience all the facets of diving. Leave your daily routine behind as you try out diving, discover state-of-the-art equipment, the most beautiful holiday destinations and meet other fans of scuba diving. The glass diving tower is remains another highlight this year, just waiting to be experienced by visitors to the fair.
Surfing in Hall 8b
The meeting point of the surf scene and the place to discover exactly what's hot right now. With unlimited boardsport action to watch and participate in, the latest trends and of course lots of fun, this unique environment can only be found at boot Düsseldorf. Whether windsurfers, stand up paddlers (SUP), wingsurfers, wingfoilers, surfers, wakeboarders, wave riders, kitesurfers or skimboarders, surf fans will get their money's worth at the Beach World.
Paddling in Hall 14
Encounter a whiff of adventure and wildlife that meanders through the hall In-between towering rocks and trees, a creek meanders over 90 metres. 3 metres wide and 40 centimetres deep, it flows into two large lakes. Test new canoes and kayaks, make your first attempts at paddling or even take a brief canoeing tour with the whole family!
Protecting our oceans is an issue that is close to the heart of every water sports fan, so visit the impressive Love Your Ocean area for comprehensive information covering this highly important topic.
Seaside in Halls 13-14
Make your dream of a perfect holiday at the water come true, whether coastal or inland, in the newly themed Destination Seaside at boot Düsseldorf. The wide range of possibilities for new and combined forms of holiday include chartering houseboats or sleek sailing yachts along with a stay at a hotel. Or combine a caravanning holiday with water sports. The options are almost unlimited.
Visiting boot Düsseldorf 2023
Full day tickets are available with registration online for € 19, € 12 reduced or € 7 for children aged 7-12. Two day tickets are available for € 33, while half day tickets are € 10. Become a member of the boot.club for free to benefit from reduced entry price of € 17 and access to WLAN in the members lounge. Over 130,000 members already take advantage of the benefits the club has to offer.
In accordance with hygiene and protection regulations, comprehensive standards for visitors, exhibitors and employees will be implemented to ensure maximum safety in 2023.